A NEW BREED OF INSTRUMENT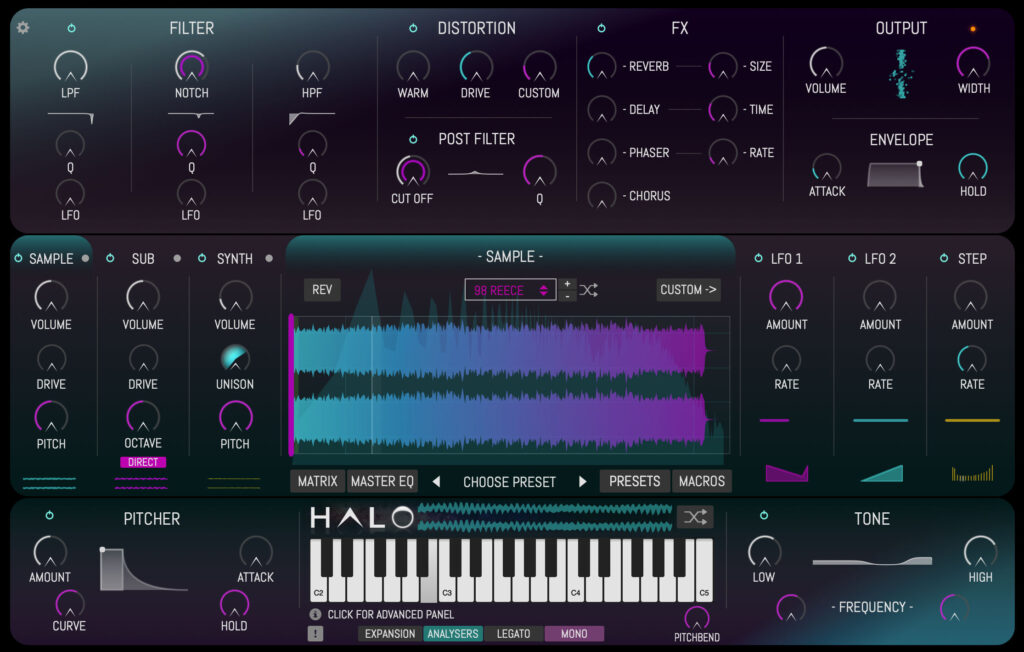 With a visual and creative workflow, HALO combines meticulously crafted re-sampled audio with a host of synth layers, processing and FX to make huge sounding basses, leads, pads and more. The immense presets will either slot straight into your projects or serve as an inspirational start point, but delve deeper into the extensive filter, FX and modulation options to make whole new sounds with just a few clicks. Unlike many Romplers, HALO also allows you to add your own custom audio with infinite sound design possibilities, as well as loading in one of the ever increasing range of Expansions.
Bonzai Caruso (Madonna, Alicia Keys, David Bowie, Notorius B.I.G)
"It's wonderful, I love how tall the sounds are. The layout and UI are excellent and the sound quality is phenomenal"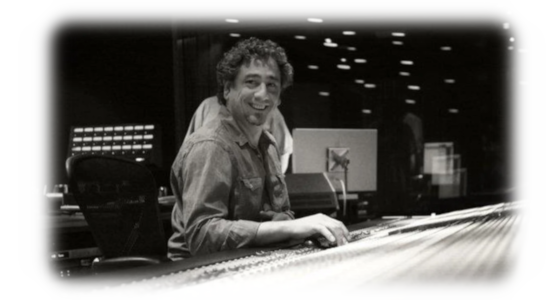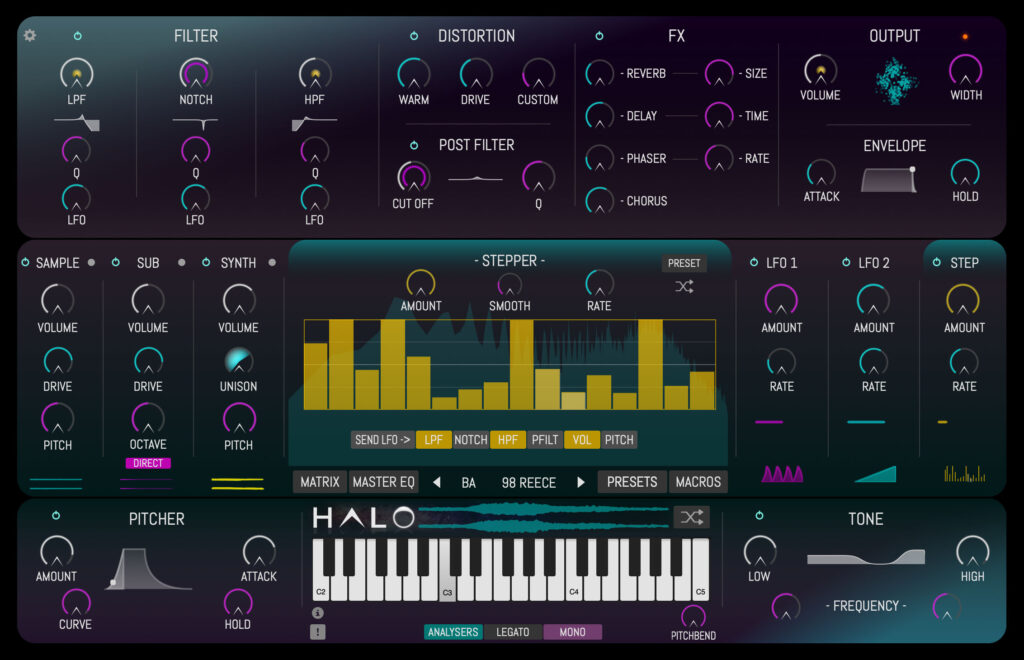 HYBRID SYNTH / SAMPLER / ROMPLER
Ranging from huge reeses to lush liquid pads, HALO features over 360 meticulously crafted presets and 300 Sample Banks, with a range of available expansions and more to come. Each Sample Bank has been painstakingly crafted by DHPlugins & DC Breaks, using a range of hardware and software synthesisers, FX and processing, and then layered with HALO's inbuilt synthesisers, pristine filters, FX and unique modulators, in order to create complex, raw, quality, playable yet malleable sounds across a vast sonic palette.
SAMPLES & SYNTHESIS
HALO's unique sample functionality includes the ability to switch between, and even randomly select Sample Banks within a preset, providing users with infinite sonic potential. Once you've set up the filters, distortions and fx you can easily swap the sample out for another, or load in your own audio files into the sample engine, and use HALO's modulations to mangle up your own sounds. With a sub and dual oscillator synth available to layer, 3 distortion modes – including a custom waveshaper – and several effects, pitch envelope and modulators, HALO is a unique sandbox of creativity.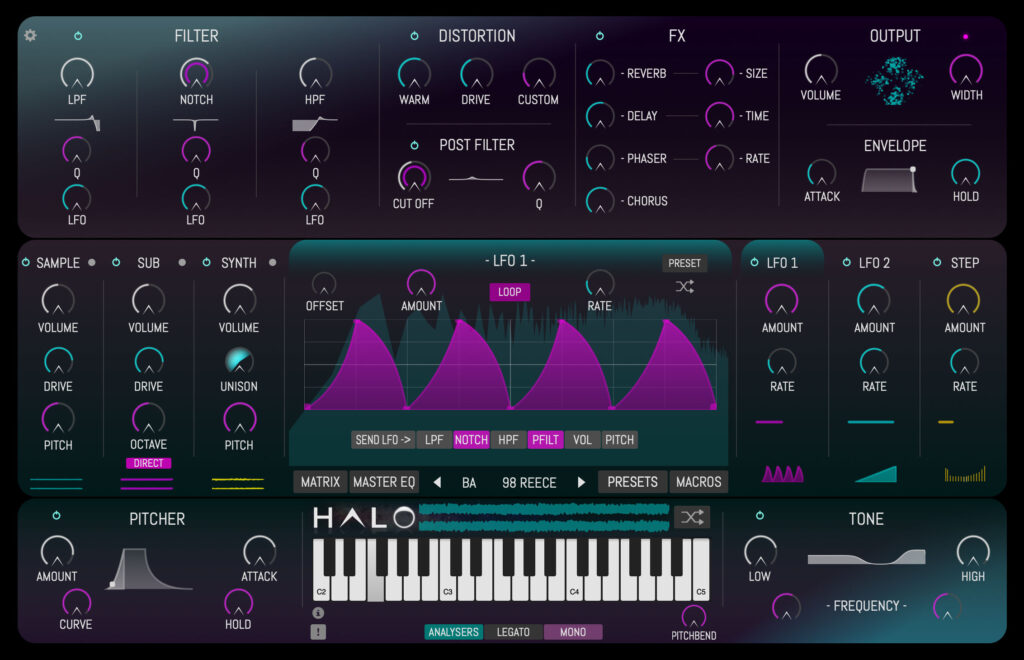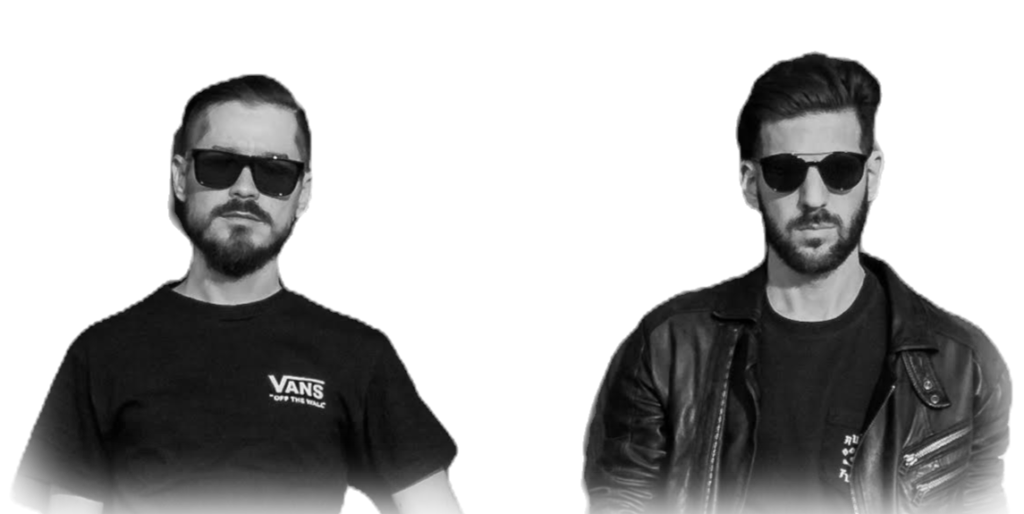 DIRTYPHONICS (Disciple Recs)
"HALO is the Plug-In Drum & Bass needed, a simple powerful mix of sampling and synthesis that gives you instant access to the essential sounds and more"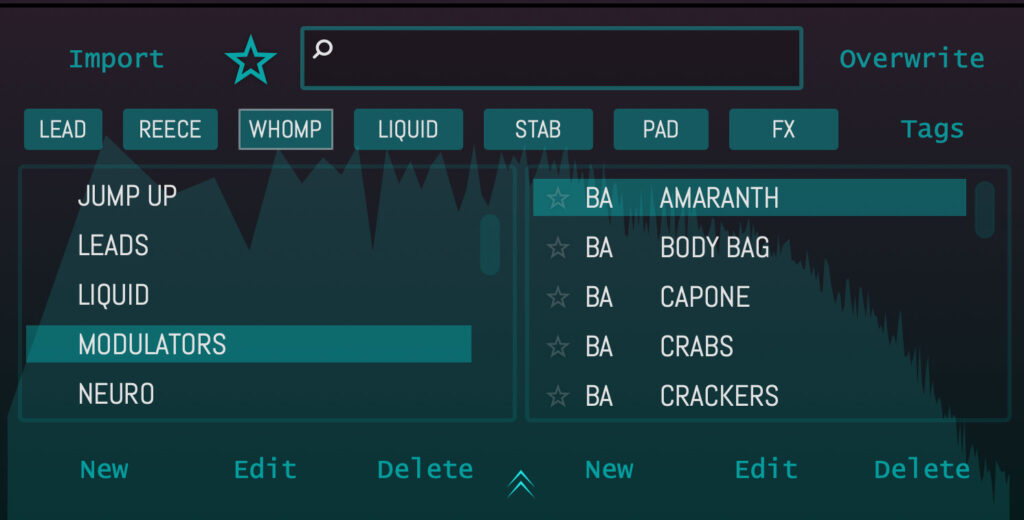 360+ Presets 300+ Sample Banks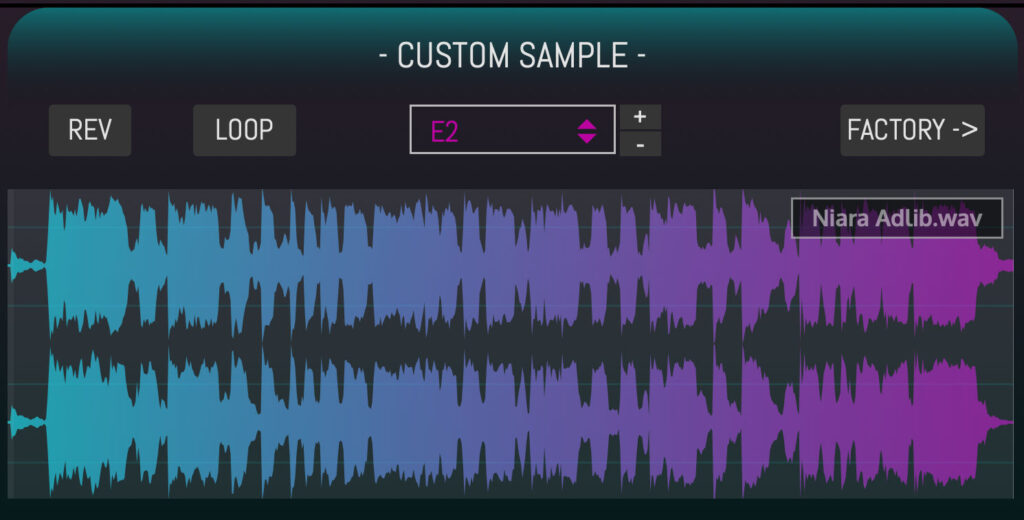 Import User Audio
Editable LFOs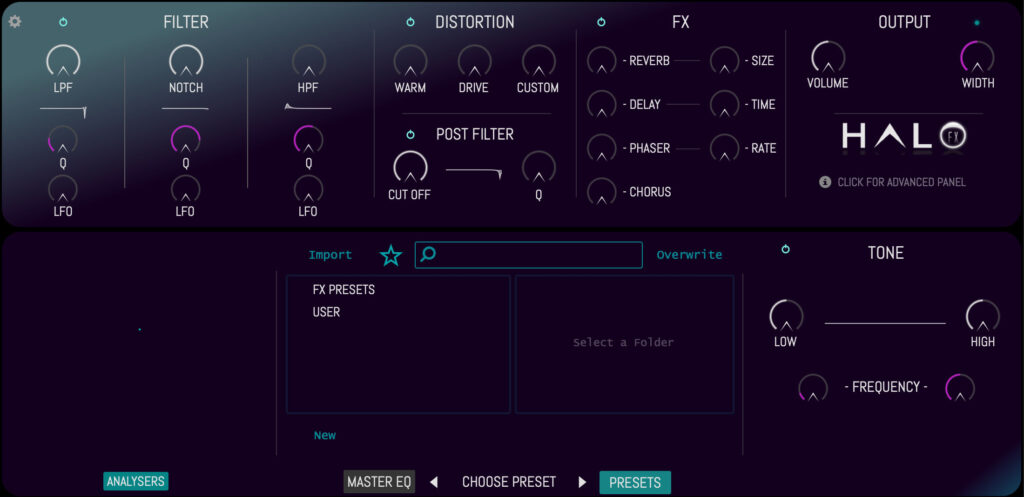 HALO-FX Effect Plug-In
Custom Waveshaping Distortion
Step Sequence Modulation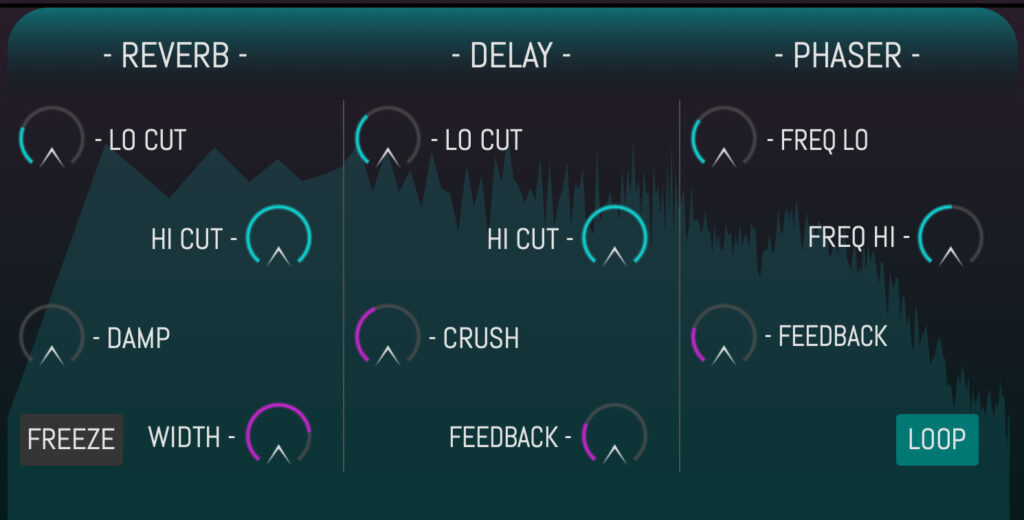 Powerful FX
Master EQ
Sub and Dual Osc Synths
Random Preset Creation
Expansions Available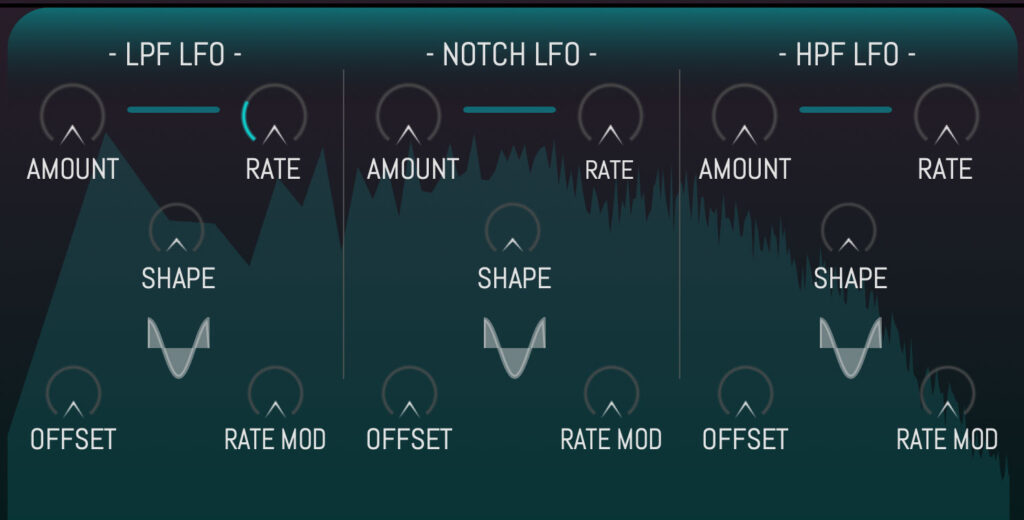 4 Filters
"This synth is absolutely sick! You've made a beast!"

Charles D
"Fantastic, having so much fun with Halo, it's so mean!

Maris M
"This is a mega cool instrument – perfect for making tracks without spending hours finding or programming the right sound!

Markus M
"Love this plug-in so much"

Neil I
"It's a great synth, mindblowing presets!"

Nils S
"Epic synth, loving it"

Troy W
"It's amazing, one of the best ever"

Mark W
"Halo should be a big time save for coming up with ideas, the sound design is perfect for bass music"

Apocolyte
"Loving it!! This thing is sick, it's the perfect combination of really polished mix-ready sounds that have dirt and grit to them. Awesome stuff"

Modulate
"I'm LOVING Halo, it's found it's way into almost every new project since I bought it"

Tom L
"Oh my gosh, absolutely blown away!! I have not stopped smiling!"

Sellout M
"Wow, such a great synth"

Rob M
"You've done an amazing job"

Dylan R
"Halo kicks ass, exactly what I've been looking for!"

Arnim H
"Bought it and love it, great sounding synth"

Joey L
"Absolutely amazing and sounds huge"

The Definition
"This thing is a Monster"

Matthew G
"first impressions of the synth are amazing, keep up the good work!"

Tom S
"Got it last night, great work guys!"

Subtext Sound
"This plugin is so good, that on board visual eq feature is probably my personal favorite part. Such an awesome vst"

Tom S
"A very useable and fun synth, great job!"

Joey Z
"It sounds amazing and love all of the random features!! Really worth the money, top work"

Andy G
"It's great!"

Malte W
"Just bought it, great work!"

Ed Solo
"Instant Buy!"

THFLW
"Really love the presets in Halo"

Wade H
"Great work with Halo!

Konsta M
"This really is a nice instrument, sounds great"

Jim H
"Loving Halo"

Max T
"Enjoying the synth, easy to get some nice fat sounds out of it! FX plug-in is a nice touch as well"

Joe G
"Been using Halo a lot recently, it's a wicked piece of software"

Tom S
"It's great to have a really DnB focussed synth which is a great alternative to things like Serum and Vital"

Sorv T
"Yes guys!! That price is just a no brainer"

Athila S
"Sounding great fun already"

Simon H
"Great sounds!"

Mark G
TECH SPECS: HALO 1.0.6 – AU / VST3 64 bit, 1GB RAM, 7GB HDD SPACE, WIN 7 OR LATER, OSX 10.8 OR LATER, M1 READY. 3 LICENSE ACTIVATIONS PER PURCHASE.
*NOT COMPATIBLE WITH ACID 10 OR LATER